In the beginning of summer as training starts to ramp up, you might be planning a training camp. 2PEAK has a special training camp feature to help you get the most out of this time how does planning a training camp work exactly?
Training camps are a valuable tool to bring your fitness to the next level and they are overall a lot of fun. Spending an extended period of time doing nothing but training, eating, sleeping and hanging out with your friends/training partners, what could be better? But there are a lot of things to consider when deciding how you should train at a training camp. We have summarized the things to consider in our guidelines to a successful training camp or you can have a look about what IRONMAN world champ Sebastian Kienle has to say here:
There is a lot of information and advice on what the best way to do a training camp. Reading our guidelines or checking out these tips useful. The main points can be summarized as follows:
Focus on something specific
Volume over intensity – You have more time in a camp, use it!
Beware of overtraining
Count hours not kilometers
Make sure your group fits your ability
Track your power and intensity
Adjust your plan appropriately before and after
Pay attention to nutrition
Recovery is still important
Have fun!
As you ca see there are a lot of things to pay attention to at a training camp and the list above is not complete only some of the main points. If you are overwhelmed by the task of planning a training camp this is exactly why there is a 2PEAK feature to help you.
How does the Training Camp feature work?
As always with planning within 2PEAK, the program considers you goals, background, and current training results when planning what you should do in a training camp. If you set up a training camp with 2PEAK, we will calculate the correct training volume for you. Users with an unlimited plan or that have the training camp upgrade can enter a camp at any time in their settings as shown here: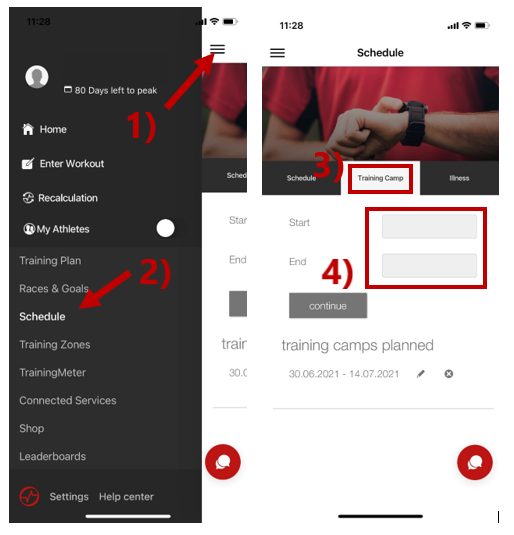 Once You have entered the dates of your training camp, the plan calculates based on your personal information, how you should optimally train. Then your plan will be adjusted accordingly. Your plan changes not only for the time in the training camp but also leading up and following the training camp to ensure you are properly recovered.
Note: 2PEAK also automatically plans an acclimation training on the travel days coming in and out of camp. Should your travel schedule not allow for this, they can be omitted. Also especially when you are training higher volume remember to listen to you body's signals to prevent overtraining.
How long should my training camp be?
Of course A training camp is primary limited by what you can fit in with the rest of your life. Managing work and family obligations is different for everyone, but we do have some general rules regarding the duration of a training camp.
A training camp should last at least 5 days. If a camp is shorter than this, and you plan it with the training camp feature, the recovery before and after will actually reduce your total volume. In this case it is better to just extend the training on the individual days.
An ideal time frame for a training camp is 7-14 days. Since it is best to focus on long endurance sessions at a training camp, your body will be exhausted from training all endurance if you are doing it for longer than 14 days. Short intense interval sessions would also have to be built in for a longer training camp.
An example of a plan during a training camp looks like this: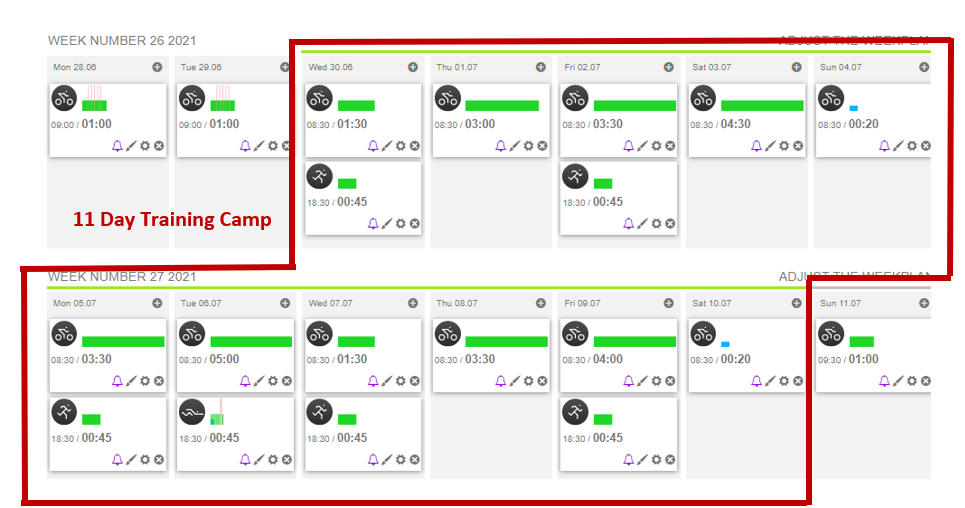 Notice the long endurance based sessions emphasizing volume rather than intensity as noted by Kienle in the video above and in our guidelines. The focus in the plan above is also primarily on cycling because it is a time consuming discipline. This could be different based on your goal but as noted in our guidelines this is often a good training camp strategy.
When should my training camp be?
In any case, a training camp should come before your main race. After all we are going to the training camp to get better for race day. However it should not be too close to your race. Leading up to a race you need the proper mix of training and recovery. For this reason, your training camp should end a month before your main race.
To make sure you have the best training in your training camp get a 2PEAK package with the training camp feature here. You might also be interested if your camp is at high altitude in our article on your first training at altitude or if your camp is in a warmer climate our article on the effects training in the heat.